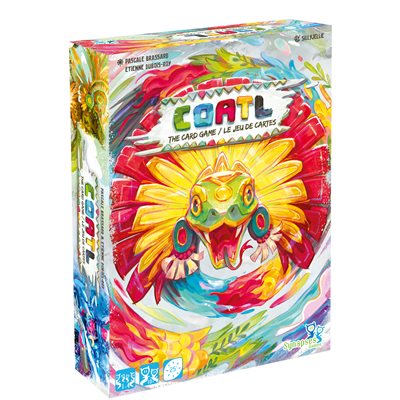 Click on image to enlarge.
Stock:
Out of stock
When the product is back in stock:
Notify me!
A temple in honor of the gods has just been erected in the heart of the Aztec city. The walls inside this place of worship are to be decorated with paintings of feathered snakes to pay tribute to the gods. An election will be held to determine who is the empire's most celebrated Cóatl painter so that they may have the honor of decorating the temple walls. During the game, players must complete objectives by creating a Cóatl painting in order to accumulate more prestige points than their opponents. Each player creates their own unique Cóatl by laying down Body, Head and Tail cards.
Beautiful illustrations! Players are doubly immersed in the theme with the Aztec universe and the splendid cards painted by the illustrator SillyJellie.
Dynamic gameplay! The steal of cards makes the game very dynamic and accentuates the interaction between the players.
Golden Feathers Expansion! A golden snake is used in Cóatl The Card Game and becomes an expansion compatible with Cóatl basic game.